This recipe was the first to really highlight the difference between Regular People Food and Foodies' Food. It's Nook and Pantry's
The Foodie's Green Bean Casserole
and it's divine. In its previous form, the complete recipe is at 40 pts, but with a few substitutions you can make it WW friendly at just 10 points for the entire dish (consider that absent French Fried Onions alone are about 10 pts). Eat half for 5 (at WW portions, it is quite filling) or a quarter for 3 and pair with some lean meat for a well-balanced meal!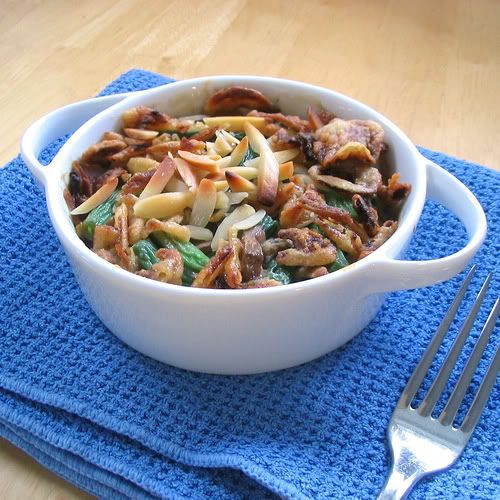 Image courtesy of Nook and Pantry
The Foodie's Green Bean Casserole
Adapted from Nook and Pantry
1 lb green beans, ends trimmed and broken in half
8 oz crimini mushrooms, chopped (these are also called Baby Bella in some places)
3 tbsp Land O'Lakes Light Butter
2 cloves garlic, minced or pressed
2 tbsp flour
salt and pepper
1/2 c chicken stock
(chicken broth and Better Than Bouillon also work)
1/4 c Land O'Lakes Fat Free Half and Half
1 sauteed chopped onion
Preheat the oven to 400
o
F.
Heat 1 tablespoon of butter in a skillet over medium high heat. Add the mushroom, garlic, some salt and pepper, and cook until the mushrooms are starting to release their liquid. When the liquid is starting to reduce, add the beans and cook until they are bright green and still a bit crunchy, about 5 minutes. You will only bake the casserole for a few minutes in the oven so cook the beans a little less than your desired tenderness.
While the beans are cooking, melt the remaining 2 tablespoon of butter over medium heat in a saucepan. Add the flour, whisk and cook until the roux is slightly golden. Slowly pour in the chicken stock, while continually whisking. Simmer the mixture for about a minute. Season with salt and pepper. Whisk in the half and half, and add the green bean and mushroom pieces; toss to coat.
Pour the mixture into an 8 x 8 Pyrex or a 9" diameter pie dish. Sprinkle with sauteed onions. Bake about 10 minutes.
Many thanks to Nook & Pantry!2 points per 1/4 batch: 129 calories, 5.2g fiber, 5g fat